Let you drill and work - even in the smallest of spaces! Expand your reach with our DOMOM Flexible Drill Bit Extension!
It bends and turns to ease you into the narrowest of spaces. Nevertheless, you can keep a firm and stable grip while the inner rotating mechanism is rotating!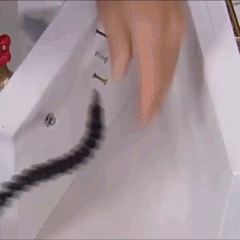 Features:
【SAFETY】 The shield of the flexible drill extension protects your hands while the inner shaft rotates freely.
【FLEXIBILITY】 30 cm flexible drill extension can bend and turn even in tight spaces.
【SUPERIOR QUALITY】 The drill extension is made of high quality carbon steel, which is practical and durable.
【FURTHER FIELD OF APPLICATION】 Flexible drill extension is an important tool in maintenance and repair, including computer cases, furniture, electrical appliances, etc.
【APPLICATION】 The 6.35mm hex bit holder fits well for drilling. Make the drill an excellent combination suitable for normal hand drills and electric drills.
Specifications:
Color: Black
Material: carbon steel + plastic
Length: 30 cm
Hex diameter: 6.35 mm (1/4 inch)
Notes:
What you should consider is choosing an electric drill that can adjust the torque.

It can ensure that the flexible bit holder works better with the drill bit and never damages the bit holder.

When using the rotary drill, do not hold the torque too high.