🔥 Reusable Tile Leveling System 🔥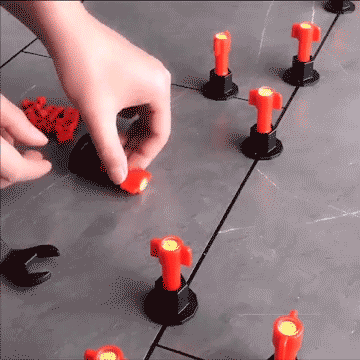 📌Description:
Practical tile leveling system,wear-resistant, resuable.
Keep the tile balance on the same horizontal position.
Easy to use for DIY operation.
Improve tile installation speed.Reduce installer fatigue/stress.
Prevents tiles from moving while curing.
Tile leveling system allows for fast and easy floor installation.
Reduces the need for grinding and polishing.
📌Specification:
Material:

PP,Stainless steel
Tile Gaps:2-6mm
Tile thickness:3mm-16mm
📌How to use?
Lay the first piece of brick, seam ≥2 mm or above., and close to second bricks.
Insert the pin along the crack, then rotate it 90 degrees, clamp the pin at the bottom of the two bricks and tighten the adjusting cover so that the two bricks are in the same level.
Before the cement or tile glue has completely dried up (usually no more than 6 hours), tighten the adjusting cover in the opposite direction, then rotate the T-pin 90 degrees so that the pin turns to a zigzag parallel to the tile, and remove the leveler.
Clean and dry storage for REUSE

.
🔍Notice:
Actual color may be slightly different from the image due to different monitor and light effect.
📦Package include:
25 x Tile Leveling System Tools
50 x Replacement needles
1x Wrench